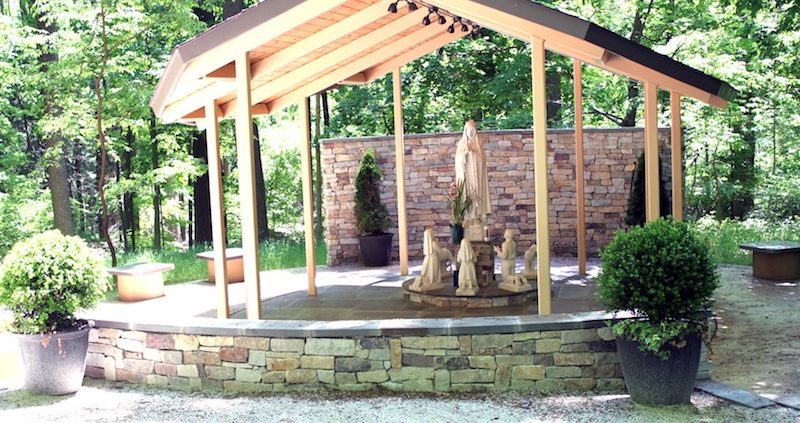 Strengthened by Grace
Malvern Retreat House
315 South Warren Avenue, Malvern PA
Mar 22-24, 2019
"Be strengthened by the grace that is in Christ Jesus." 2 Timothy 2:1
On behalf of Team Grace, we welcome you to the MCCW Northeast Regional Retreat at Malvern Retreat House in Pennsylvania. Malvern Retreat House has been described as, "a spiritual sanctuary in the hills of Malvern." As you prepare for this retreat, we invite you to focus on the word GRACE.
What and where will the graces bring you to in your faith journey?
Will this retreat provide you with quiet time for reflection and meditation?
Or UNITE sharing times with other sisters in faith?
Your retreat time will be blessed with the Adoration, Sacrament of Reconciliation, Illuminated Rosary, Divine Mercy Chaplet, and Mass. Your retreat will have incredible speakers including MCCW leadership, past and present, and a very special guest speaker to INSPIRE you in your faith journey. You will have time to CONNECT with other ladies, whether on an early morning walk, sharing a meal, or while listening to our speakers.
During our time together, we will also have discernment for the 2019-2021 Northeast Regional Board. Visit our website for more information about discernment and prayerfully consider serving the Northeast.
Team Grace Captains, Denise Hummel and I, are looking forward to seeing you at the 2019 NE Regional Retreat. Together we shall CONNECT*UNITE*INSPIRE each other in faith!
Graces and blessings,
Bernadette KN Kovalsick
Interim NE Regional Coordinator
MCCW Director at Large
Directoratlarge1@nullmccw.org
Full details are available on our EventBrite link including logistics, cost, what's included and more:
Eligibility
If you are a female, 18 and older, AND affiliated with the military (all branches-active, guard, reserve, dependent, retired, DoDEA, contractor) – we would be honored to have you attend this retreat! Please note: You do not need to be a leader in your community or a member of a CWOC, we do have women who attend from installations where there is not an active CWOC and we would be happy to have you!
How to Register
All registrations must be completed on Eventbrite by midnight on 8 March 2019 EST. Registering early is critical as the availability of rooms are limited. Unfortunately, we are unable to block rooms. In an effort to maximize attendance, ALL ROOMS WILL BE DOUBLE ROOMS OCCUPANCY. Please be prepared to choose a roommate upon registering.
Cost of Attendance
The Registration Fee is a nonrefundable per person fee paid through Eventbrite before March 8. Options include:
-$260: 3 days, 2 nights with double room occupancy
-$90: 1 day (Saturday) Day Tripper includes the meals, guest speakers, and all MCCW swag items. Please indicate, on your registration, if you have any food allergies.
Paying for Registration
When completing online registration make one of the following payment selections:
Choose ONLINE at Eventbrite via CC (Small Fee $11-17)
Choose MAIL-IN/INVOICE then mail a check and notate it with "Northeast Retreat" in the memo line
MCCW, Inc.
PO Box 4456
Washington DC 20017-999
If your CHAPEL is paying by invoice please read and choose "MAIL-IN / INVOICE" ticket
Chapel Subsidy Payments – Chapels pay by electronic transfer.

Chapel Name (Base/Post)
POC: Parish Coordinator and/or CWOC President (Please include emails and or phone numbers.)
Names (& contact info) of registrants receiving a subsidy and the amount
PO Request: Date Approved
Date of payment by DFAS – Ask your Chapel NCOIC to communicate with DFAS on the payment date.
Amount of subsidy per person being paid
An invoice will be provided once we receive your email with the information.Local Chapel CWOC/MCCW presidents please email the MCCW Financial Manager finance@

null

mccw.org and registrar@

null

mccw.org to advise the following:
NOTE – PLEASE CHECK TO SEE IF YOUR CHAPEL WILL FUND YOUR RETREAT BEFORE YOU PROCESS A PERSONAL PAYMENT. IF ANY PORTION OF YOUR REGISTRATION WILL BE PAID WITH CHAPEL FUNDS, PLEASE CHECK THE "MAIL-IN/INVOICE" PAYMENT OPTION. NO REFUNDS TO PERSONAL CREDIT CARDS WILL BE ISSUED AFTER PAYMENT HAS BEEN PROCESSED.
More Information
If you have other questions, please email our Northeast Regional Registrar Courtney for more information.
Lodging
All room are double occupancy. The rooms at McShain-Horstmann Family Life Center have a single and double bed with a private bathroom and air conditioning. The rooms have a mirror, desk, chair, and clothes rack. Bedding and set of towels with hotel size bar soap are provided.
Handicapped-accessible rooms, for those who require the accommodation for a wheelchair, may be available upon request.
All rooms to include retreat site are no smoking. 
Bring personal items, spiritual items (rosary, bible, veil/pashmina), toiletries, medication, jacket and any additional comfort items. We also recommend bringing earplugs if you have trouble sleeping with roommates.
Selecting a Roommate
All roommate preferences should be noted on Eventbrite. Please ensure your preferred roommate indicates you as her roommate also. If you are attending and do not specify a roommate, Courtney Power, Retreat Registration Chair will assign a roommate.
About the Retreat Center
At Malvern Retreat House, we meet each of our visitors where they are, offering them a quiet and healing respite from the demands and distractions of everyday life. All who set foot on our grounds are immediately touched by the peace and beauty they find.
Check-In
When we gather in March, we'll plan to arrive beginning at 5 p.m. on Friday, 22 March and our closing Mass will conclude at 12 p.m. on Sunday, 24 March. Please don't show up earlier as there is another event going on at the center.
Please consider bringing cash/checks as there will be items available for purchase and daily mass offerings taken during the retreat.
Transportation
Malvern Retreat House is located at 315 S. Warren Avenue, Malvern, PA 19355. The Main Entrance is found on South Warren Avenue, opposite Malvern Preparatory School.
Driving directions use of Google Maps from your location to the Malvern Retreat House.
Public Transportation: To travel locally by train, take SEPTA's Paoli/Thorndale line to Malvern. Once you arrive at Malvern's stop and exit the train, walk up Warren Avenue for approximately 10 minutes. You will see Malvern Retreat House on your left. To map your route and determine train times, visit SEPTA's website to use their "Trip Planner." For Amtrak information, visit their website or call 800-872-7245
Are Children Welcome?
The Malvern Retreat Center welcomes "Nursing babies … no mobile children or toddlers". A mobile child is beginning to crawl and/or beginning to walk. As per the Retreat Center policy, no children under the age of 18 are allowed in attendance. Please note this policy is the ensure the safety of all attendees.
Food Options
Meals include 1 dinner meal on Friday, 3 meals on Saturday and 1 breakfast meal on Sunday. Serving times: breakfast at 8 a.m., lunch at noon, and dinner at 6 p.m. It also includes coffee and tea during the retreat. Please list your dietary needs in your registrations.
Refunds
Registration is complete when payment is received. The Registration Fee is not refundable. However, we do understand unexpected situation occur.  You are able to transfer your registration to another woman.  Please contact your regional coordinator if you need to initiate transfer of your registration.
Recommended Attire
Please dress comfortably but with a spirit of respect for the spiritual nature of the retreat facility. Temperatures in March will range from 50 high to 32 low. Please consider bringing a sweater or light coat, rain jacket/umbrella and comfortable shoes for walking the stations of the cross.
Discernment
We will have discernment for the MCCW Northeast regional board. Here is a link of available positions and a contact sheet for you to review. More information will be provided at the retreat regarding discernment and the positions.
http://mccw.org/wp-content/uploads/2019/01/malvern-retreat-center.jpg
533
800
mccwadmin
http://mccw.org/wp-content/uploads/2017/05/cropped-MCCW-Icon-Logo-180x180.png
mccwadmin
2019-01-27 18:08:09
2019-07-10 14:44:05
Northeast Regional Retreat 2019