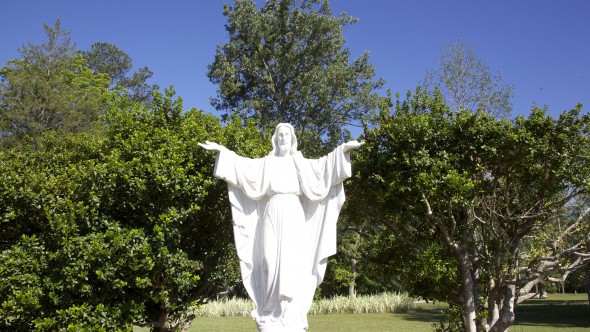 Strengthened by Grace
Blessed Trinity Retreat Center
107 Holy Trinity Road, Fort Mitchell, Alabama
Mar 29-31, 2019
"Be strengthened by the grace that is in Christ Jesus." 2 Timothy 2:1
Greetings!  We are so excited to invite you to the MCCW Southeast Region Retreat: Strengthened by Grace.  This 2-night, 3-day retreat will be held on the beautiful, serene grounds of the Blessed Trinity Retreat Center in Fort Mitchell, Alabama, just across the river from Columbus, Georgia.  We will be hosted by the Sister Missionary Servants of the Most Blessed Trinity.  We look forward to leaving behind the distractions of life and experiencing God's precious Grace together.  You can expect to spend time in reflection and meditation through Adoration, Confession, Mass, and many forms of personal and group prayer.  You will hear and participate in talks with our host Sisters, MCCW Worldwide Leadership and guest speakers.
We hope you can make it!
Nancy Waldron
MCCW Southeast Region Coordinator
southeastcoordinator@nullmccw.org
Full details are available on our EventBrite link including logistics, cost, what's included and more:
Eligibility
If you are a female, 18 and older, AND affiliated with the military (all branches-active, guard, reserve, dependent, retired, DoDEA, contractor) – we would be honored to have you attend this retreat! Please note: You do not need to be a leader in your community or a member of a CWOC, we do have women who attend from installations where there is not an active CWOC and we would be happy to have you!
How to Register
All registrations must be completed on Eventbrite by midnight on 20 March 2019 EST. Registering early is critical as the availability of rooms are limited.
Attendance Options
We highly encourage you to "retreat" and spend your time for three days at the retreat center. As we realize this time frame and overnight option is not possible for everyone, we have included a day tripper price for those who cannot spend the night. When registering, please note which nights/days (meals) you will be staying. Costs are listed below.
Cost of Attendance
The Registration Fee is a nonrefundable per person fee paid through Eventbrite before March 20. Options include:
-$235: 3 days, 2 nights with single room occupancy, seven meals, evening reception, retreat materials, hospitality room access and an on-site chapel.
-$145: Day Tripper  multi day pass over the course of four days includes seven meals, evening reception, retreat materials, hospitality room access and an on-site chapel.
Please indicate, on your registration, if you have any food allergies.
Paying for Registration
When completing online registration make one of the following payment selections:
Choose ONLINE at Eventbrite via CC (Small Fee $11-17)
Choose MAIL-IN/INVOICE then mail a check and notate it with "Southeast Retreat" in the memo line
MCCW, Inc.
PO Box 4456
Washington DC 20017-999
If your CHAPEL is paying by invoice please read and choose "MAIL-IN / INVOICE" ticket
Chapel Subsidy Payments – Chapels pay by electronic transfer.

Chapel Name (Base/Post)
POC: Parish Coordinator and/or CWOC President (Please include emails and or phone numbers.)
Names (& contact info) of registrants receiving a subsidy and the amount
PO Request: Date Approved
Date of payment by DFAS – Ask your Chapel NCOIC to communicate with DFAS on the payment date.
Amount of subsidy per person being paid
An invoice will be provided once we receive your email with the information.Local Chapel CWOC/MCCW presidents please email the MCCW Financial Manager finance@

null

mccw.org and registrar@

null

mccw.org to advise the following:
NOTE – PLEASE CHECK TO SEE IF YOUR CHAPEL WILL FUND YOUR RETREAT BEFORE YOU PROCESS A PERSONAL PAYMENT. IF ANY PORTION OF YOUR REGISTRATION WILL BE PAID WITH CHAPEL FUNDS, PLEASE CHECK THE "MAIL-IN/INVOICE" PAYMENT OPTION. NO REFUNDS TO PERSONAL CREDIT CARDS WILL BE ISSUED AFTER PAYMENT HAS BEEN PROCESSED.
More Information
If you have other questions, please email our Northeast Regional Registrar Courtney for more information.
Lodging
All room are single occupancy with a shared bath in between the two rooms. Blankets, sheets, and towels will be provided.
If you have a preference for a shared bath mate, please indicate.  We will do our best but can't guarantee requests.
Bring personal items, spiritual items (rosary, bible, veil/pashmina), toiletries, medication, jacket and any additional comfort items. We also recommend bringing earplugs if you have trouble sleeping with roommates.
About the Retreat Center
The Blessed Trinity Retreat Center is situated on holy ground for the Missionary Cenacle Family. It was here in Holy Trinity, Alabama, that the religious branches of Roman Catholic Sisters, priests and Brothers made their first home. It is here that the shrine we know as Father Judge's Chapel stands as a witness to our birth. The Missionary Servants of the Most Blessed Trinity Motherhouse burned down in 1930, forcing the Sisters to relocate to Philadelphia, but we continue to maintain and develop our mission at this sacred place. Blessed Trinity Shrine Retreat was built here in 1965.  The center has an indoor and outdoor chapel, small gift store, outside walking stations of the cross, gardens and walking paths.
Check-In
When we gather in March, we'll plan to arrive beginning at 5 p.m. on Friday, 29 March and our closing Mass will conclude the event on Sunday, 31 March.
Please consider bringing cash/checks as there will be items available for purchase and daily mass offerings taken during the retreat.
Transportation
The Blessed Trinity Retreat Center is located at 107 Holy Trinity Road in Fort Mitchell, Alabama. Further details and directions will be provided after registration.
Are Children Welcome?
We welcome nursing and lap babies.  There are no cribs available, so please bring your own if required.
Food Options
Meals include 1 dinner meal on Friday, 3 meals on Saturday and both breakfast and lunch meals on Sunday. Please list your dietary needs in your registrations.
Refunds
Registration is complete when payment is received. The Registration Fee is not refundable. However, we do understand unexpected situation occur.  You are able to transfer your registration to another woman.  Please contact Nancy Waldron, your regional coordinator, if you need to initiate transfer of your registration.
Recommended Attire
Please dress comfortably but with a spirit of respect for the spiritual nature of the retreat facility. Temperatures in March will range from 50 high to 40 low, it will likely be cooler at night so please bring multiple layers. Please consider bringing a sweater or light coat, rain jacket/umbrella and comfortable shoes for walking the stations of the cross.  We also suggest you bring comfortable clothes for working out or stretching.
Discernment
We will have discernment for the MCCW Northeast regional board. Here is a link of available positions and a contact sheet for you to review. More information will be provided at the retreat regarding discernment and the positions.
http://mccw.org/wp-content/uploads/2019/02/blessed-trinity.jpg
332
590
mccwadmin
http://mccw.org/wp-content/uploads/2017/05/cropped-MCCW-Icon-Logo-180x180.png
mccwadmin
2019-02-06 20:42:54
2019-02-06 20:42:54
Southeast Regional Retreat 2019