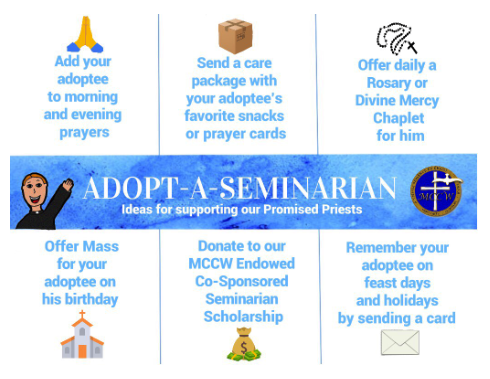 By:  Denise Hummel, MCCW Director at Large-Seminarian Support
With the number of U.S. military Catholic chaplains at only 182, we must continue to support, in prayer and almsgiving, our Archdiocese for the Military Services (AMS) Co-Sponsored Seminarians.   MCCW offers multiple ways to show our love for these Promised Priests; those who discern a priestly vocation, and the vocation within a vocation to serve those who serve in the U.S. military.
MCCW members are invited to adopt a seminarian through their local chapel women's ministry groups.   During the one-year adoption period, groups are asked to show support to their assigned seminarian by sending cards, emails, and care packages.   Additionally, offering mass on their adoptee's birthday and dedicating a rosary or chaplet in the honor of their adoptee, during a weekly meeting, would be a perfect way to show prayerful support.   
Last year, due to the overwhelming number of chapel women's ministry groups interested in adopting, all our AMS Co-Sponsored Priests were added to the list of adoptees.  
What is an AMS Co-Sponsored Priest, you may be asking?   After an AMS Co-Sponsored Seminarian is ordained a priest, in their home diocese, they are asked to serve their local diocese for three years to gain experience before becoming a U.S. military Catholic chaplain.  This spring, five seminarians–representing the Army, Air Force and Navy–were ordained priests. Remember, too, that our Navy chaplains serve both the U.S. Navy and U.S. Marine Corps.  
Aside from showing prayerful commitment, MCCW actively supports our perpetual charity, the AMS Co-Sponsored Seminarians, with financial contributions.  Our first-ever MCCW Endowed Co-Sponsored Seminarian Scholarship was created and endowed last spring with an initial contribution of $50,000. This newly endowed scholarship will accomplish so much.  It will connect our members from around the globe to our effort to support seminarians, unite our financial contributions for even greater impact, and inspire future MCCW members to continue supporting our promised priests.  The seminarians who participate in the AMS Co-Sponsorship receive 50% of their tuition from their home diocese and 50% from the AMS.   
Making a contribution, in the honor of your assigned AMS Co-Sponsored Seminarian or Priest, would be a wonderful way to give alms and continue to support our MCCW perpetual charity.   Your contribution could be given on a monthly basis, as a one-time donation, or even by supporting silent auctions held at MCCW Retreats and Forum.  
The forming of a personal relationship between chapel women's ministry groups and seminarians (or newly ordained priests), creates the opportunity to learn more about military life.  Through regular contact with military families, our promised priests will better understand the dynamics of life in a military family around the globe.    
To learn more about adopting a seminarian, please email Denise at amsliaison@nullmccw.org.     For information on contributing to our MCCW Endowed Scholarship, please visit: http://mccw.org/giving/seminarian-support/.  
Together we can make a difference in supporting our Promised Priests who answer the call to serve both God and Country.    
http://mccw.org/wp-content/uploads/2019/08/mccw-promised-priests-support-graphic.png
379
490
mccwadmin
http://mccw.org/wp-content/uploads/2017/05/cropped-MCCW-Icon-Logo-180x180.png
mccwadmin
2019-08-13 07:24:03
2019-08-13 07:24:03
Prayer and Support for our Promised Priests