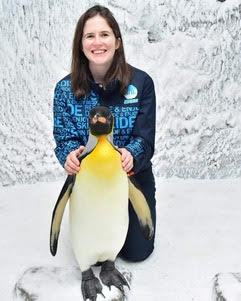 We have said it before, but we will say it again here: so much of the work that is done for MCCW happens behind the scenes and is never seen by the women and communities we serve. But without the amazing women who do that work, MCCW wouldn't be on the path it is on today.
This month's Volunteer Spotlight is Katherine Lockhart, who does just that. Katherine serves MCCW as the newsletter editor for The Well. Each month she prepares and collates all of the information for each issue of The Well. She compiles the monthly calendar information and hunts down graphics to go with some of the articles. She also checks social media on a regular basis to find out what great things our chapels are doing so we can highlight those activities each month.
Katherine reached out to MCCW in the fall of 2018 asking how she could get more involved. An active-duty Air Force officer, Katherine was assigned to the Middle East and wanted to feel more connected to her sisters in Christ around the world. After juggling time zones, we arranged a call and during the call we decided that serving as The Well Editor was the perfect long-distance job for her busy life.
In her nearly 18 months serving MCCW, she has seen the Well grow from a three-page newsletter to a document spanning ten to 12 pages or more. Her behind-the-scenes work enables our writers, communications director, and designer to produce a beautiful product each month because we know Katherine is quietly pulling together all the pieces each woman contributes.
Thank you, Katherine, for your steadfast, quiet dedication to connecting, uniting and inspiring Catholic women everywhere.
http://mccw.org/wp-content/uploads/2020/03/katherine.jpg
301
241
mccwadmin
http://mccw.org/wp-content/uploads/2017/05/cropped-MCCW-Icon-Logo-180x180.png
mccwadmin
2020-03-24 09:00:51
2020-03-31 11:14:41
Volunteer Spotlight: Katherine Lockhart