The Military Council of Catholic Women reflects the visible presence of Christ in military communities by forming women in spirituality, leadership and service.  As a non-profit subsidiary of the Archdiocese for the Military Services, USA (AMS), MCCW works with military chapels across the globe, and at nearly 220 U.S. military installations, to form women in our Catholic faith.
MCCW provides a unique network for Catholic military women.  We provide leader development and faith formation through speakers, retreats, and online resources. We are also hosting a worldwide forum in San Diego in April 2018, where women will gather to be inspired by Catholic speakers, and participate in spiritual development and practical workshops that meet the unique needs of women affiliated with the military. If you are new to the military or have recently PCSed (that's military talk for moved!), please reach out to your regional coordinator to link up with MCCW in your area.
MCCW can help you start a women's ministry group!
Whether you are a chaplain or a lay person, MCCW can help you start or build a women's ministry group at your chapel. Our online resources and training will provide you the information you need and includes guidance on spiritual discernment. We have files for convenient download and use at the local level and training events by region.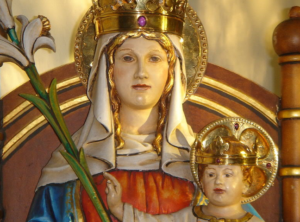 Lord of heavenly wisdom, Who has given us your own Mother Mary to be our guide and counselor in this our lives, Grant that in all things we may have the grace to seek maternal instruction and to profit by it in humility and love. O Mother of Good Counsel, Patroness of the Military Council of Catholic Women, help us to understand and fulfill the mind and will of your Divine Son, Jesus Christ.
Under the blessing of the Father, and by the power of the Holy Spirit, may we be responsible and intelligent daughters of the Church. May we labor in the spirit of renewal to realize more perfectly the Kingdom of God here below, as the only true preparation for our share in the Kingdom of Heaven.
Amen!
1
,
800
,
00
Catholics in the military family supported by MCCW.
1
,
500
Catholic women of faith digitally joined by the MCCW network of support.
535
Catholic women joined in service & discipleship around the world at six in-person annual faith events.
What's the difference between MCCW and CWOC?