MCCW-Worldwide will soon be hosting its third conference as the official spiritual organization for women of the AMS and as a bonafide 501 (c) (3) non-profit organization. Our success in recent years is because of your active participation and prayerful support.  Your continued involvement will shape our future for the 2018 Forum and beyond.
Held every two years around the season of Easter, our joy abounds as together we share the experience of life in Christ.  From the prospects of our own resurrection to the knowledge of our true home in heaven, we know that Jesus said, "Where two or three are gathered in my name, I will be with them."
"Let us take the Lord at His word and be open to experience His presence during our conference.  He will surely be present in our celebration of the Mass, during adoration and the Sacrament of the Reconciliation." — Bishop Neal Buckon, MCCW Worldwide Episcopal Moderator
When the conference ends, you will return to your homes, friends, families and chapel communities of faith invigorated by God's blessings and graces and renewed in your commitment to spiritual growth and discernment for the good of the Church.
Know that your MCCW family will be praying for you in the coming months as we prepare for "The Woman at the Well" 2018 Worldwide Forum. We will pray that your family thrives during the time you dedicate to being formed in the faith and lifted up by this community. We will pray that our Lord will be apparent to you before, during and after the conference. We will pray for safe travels and happy reunions. We will pray for healing and for conversion. Rest in the Lord's presence with confidence as you plan and know that you are meant to be in San Diego with your fellow MCCW sisters in Christ.
The Bizarre Dialect of Your Husband and Sons
with Joshua Danis: Can I really share the joys of faith with the boys and men in my family? In this workshop, we discuss some of the unique ways men commonly think about faith. Unlocking these keys can make us more attentive to ways men often use language in their journey of discipleship. Full of entertaining stories and practical tools, this work is sure to both entertain and equip you to more fully partake in a mutual sharing of faith with those funny masculine creatures.
True Royal Beauty
with Hollie Danis: Am I beautiful? It is the question written on the heart of every woman. How we find the answer to this question changes the very shape of our lives. In this workshop, we will take a counter-cultural look at what defines true beauty. We will break through beauty misconceptions and hear practical tips on how to become the woman God has created each of us to be. Looking to the most beautiful woman in the world, Our Blessed Mother, we will be inspired to lives of authentic womanhood, and rediscover our true beauty and royal dignity as daughters of God.
Katholic Kryptonite!
with Matthew Arnold: Ever had a "Bible Christian" challenge you with a Bible verse that seems to contradict Catholic teaching? Ever hear, "Where's that in the Bible?" and didn't know what to say? That's Katholic Kryptonite! Now, join Matthew Arnold – mild-mannered apologist for a great world religion – in the never-ending battle for Truth, Justice and the Catholic Way! In this lively and engaging PowerPoint presentation, you'll discover bullet-proof Biblical answers to the many objections to the Catholic Faith made by Fundamentalists and other "Bible Christians."
A Life's Journey in Mercy
with Julie Carrick: This is a combination of a witness talk and catechesis that give practical application of the Corporal Works of Mercy starting in our family and then moving out into the world around us. It answers the question "How can I offer and receive Mercy?" Some of the trials overcome in Julie's life, by the grace of Mercy are: Infidelity in Marriage, Loss of Children, Rape and pregnancy of her daughter, and Lung Cancer to name a few… You will take away from this session real hope, no matter what, through a courageous reception of Divine Mercy. Music is also included in this presentation.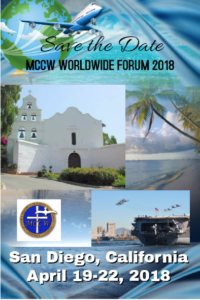 On April 19-21, 2018, Catholic women from the Archdiocese for the Military Services will converge on San Diego, CA for the bi-annual MCCW Worldwide Forum conference, The Woman at the Well. Featuring transformative speakers and a pilgrimage to the San Diego Mission and Immaculata, this reunion event will offer spiritual renewal and fellowship to all MCCW members.
Plan now to join the MCCW leadership to learn more about the gifts you were given as we engage in Mass, Reconciliation, Adoration and Fellowship.  There will be a special "Taste of Mission" fundraiser to support the Archdiocese for the Military Services Seminarian Co-sponsorship Program.
From April 21-25, 2016, Catholic women of the Archdiocese for the Military Services, USA gathered in Washington, D.C. to participate in MCCW's 60th anniversary conference, Our Roads Lead Home. Our conference keynote speakers included Dr. Edward Sri and Mrs. Donna-Marie Cooper-O'Boyle.
We were given an incredible gift for this conference, our music liturgist, Julie Carrick, composed a theme song for this 60th anniversary conference.  She gathered reflections on what "Our Roads Lead Home" means to MCCW ladies.  This is what she was inspired to compose!