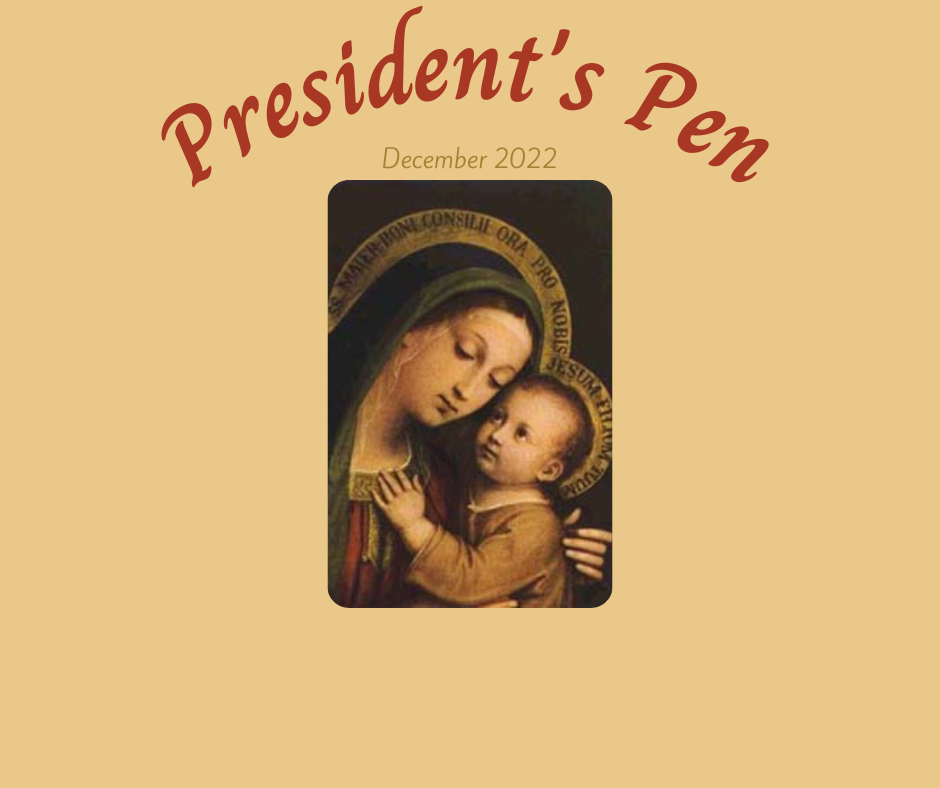 President's Pen – A December Message
At this time of year, we often start looking ahead to flipping the calendar to the new year. This is usually paired with ideas for resolutions to do better, be better–basically, how to transform our current state into a new model of contentment, thriving, and happiness. All of this can even lead to guilt or feelings of pressure that distract from the absolute joy of Christmas.
I was blown away this past week in a small group Advent reflection when the facilitator pointed out that Christ's birth is the ultimate new beginning. In the moment of His human birth, Christ gifted the entire world the biggest mulligan in history–the chance for mercy, forgiveness, and grace so we can do it again and do it better, be better.  
In a very real way, Advent serves to prepare us to be open to God's call to focus on what is truly important–His love for us, His gift of eternal life, and all the resources and help we need to seek contentment and happiness and thrive in our worldly and spiritual lives.
I hope you will enjoy the final days of 2022 and celebrate the wonder of the best new beginning–Christ's miraculous birth and what it means for your future. Surely, spend time with family, go to Christmas Mass, enjoy the nativity play and Christmas music, eat all the food and share gifts with each other. But please take time to also allow God to plant the seeds for the blessed 2023 He has in store for you.
MCCW is certainly excited about all we have planned in 2023 and cannot wait to be in person with many of you during the spring retreats. 
With the deepest gratitude for all you do to bring Christ to life within the MCCW community,
In Christ,
Bevin