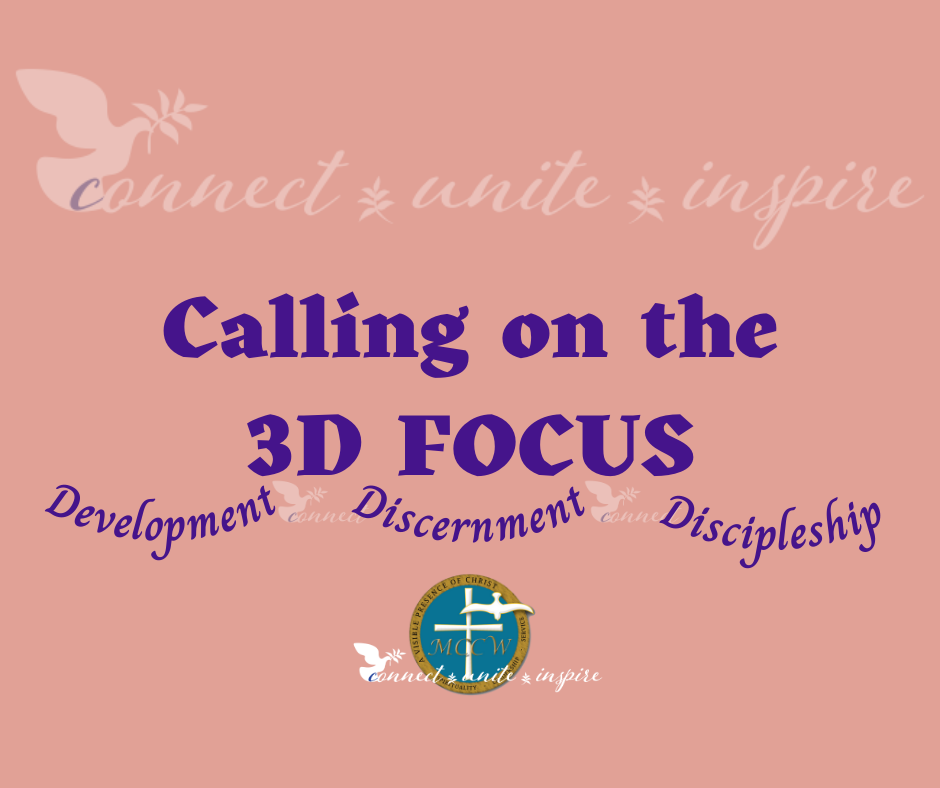 In a new decade of our ministry, MCCW affirmed our Christ-centered core values of discernment, development, and discipleship as the driving force that grounds our individual and organizational actions, guides our ministry direction and informs our priorities. This inspires us to promote and preserve our faith by being voices for the Gospel, examples of servant-leadership, and faithful participants in all sacraments. The outcome is a connected military faith community, united in our love of Christ, and inspired by His command to go forth into the world with a heart of discipleship. 
MCCW is now calling on a 3D focus for each of her members. This focus is not just for individual growth, but is also an invitation to our CWOC and chapel groups as well. In order to better understand this calling to the 3D focus, we must first identify what we mean by "3D," which is discernment, development, and discipleship.
Discernment—Seeking and understanding the will of God for our lives and vocations through the power of the Holy Spirit.
The Eucharist is the mechanism through which God invites us to be transformed into the likeness of his Son by the power of the Holy Spirit. God needs us to acknowledge our receptivity to this transformation before He can effect holy or spiritual change in us.  We give this signal by coming to the Mass and receiving the Eucharist so that Christ is physically present in us. His presence is then unleashed in us and empowers the Holy Spirit to begin revealing God's will for our lives. His real presence opens our hearts, minds, and wills to discern how He seeks to transform us in countless ways.
Development—The process by which we grow deeper in faith or more advanced in our personal gifts for the betterment of the Kingdom.
None of us are worthy in our own right to be used by God. Instead, God uses us in spite of our brokenness and through our humanity. He gives each of us unique talents and gifts and then challenges us to launch out into deep waters and do hard things. It can be terrifying to trust Him in the vocations or roles He calls us to live out. But someone has to do the hard work of the Kingdom and we are all responsible for saying yes when God asks us to do "the things." Through His infinite love and mercy, He does not leave us alone with this task. He provides the Eucharist as the catalyst for our lives. Receiving Christ in the Eucharist is an inexhaustible source of energy that sustains us as we develop our faith and seek ways to serve Him.
Discipleship—Following Jesus while continually being changed by Christ and living out our baptismal call to lead others to the Cross by sharing the Gospel.
The ultimate way in which we are continually changed by Christ is through the Eucharist. As we die to self and are filled with Christ, we find a radical transformation occurs which empowers us to answer the baptismal call we have each received. When we study Scripture, it becomes readily apparent that nobody who encountered Christ walked away the same person. So, too, as we encounter Christ in the Eucharist, are we granted the opportunity to change into a better version of ourselves. To be a disciple challenges us to embrace our Teacher, emulate His example, allow Him to mold and transform us, and to carry His loving sacrifice to all those we encounter. As we meet Christ in the Eucharist, and through the sacrament of Reconciliation, we are granted the courage to carry our new selves out into the world to serve as missionary disciples.
When we study the logo used for MCCW for the past decade, we are reminded to serve as, "A Visible Presence of Christ" to the communities in which we live. The logo points us to three ways in which we serve as a visible presence: through Spirituality, Leadership, and Service. In order to live as a visible presence of Christ through spirituality, leadership, and service, every one of us is called to focus on the 3D's – Discernment, Development, and Discipleship.
As we prepare to enter into the holiest of liturgical seasons, each one of us is invited to consider where we are on our faith journey, and how the 3Ds manifest in our lives. Prayerfully ponder the following questions, and begin to ask God to show you the next steps forward:
What do my prayer life and discernment gifts look like? How am I recognizing God's call on my heart? What ways can I better recognize God's call? How can I structure my day in order to focus on spending time with God, not just speaking to Him, but also as importantly, listening to Him?

How am I developing spiritually? What are the gifts I have been given? What areas do I feel comfortable using my gifts and talents? What areas am I uncomfortable with using my gifts and talents – within my home and within my community? How can I use the gifts and talents to serve as a visible presence of Christ in my family, among friends, and within my greater community?

What does it mean to be a disciple? How is Christ leading me into serving as a disciple? Where can I serve as a disciple within my family, among my friends, and within my greater community? Are there any areas in which I shy away from living as a disciple? How can I ask God for greater strength and guidance as a disciple?
Through prayer, scripture study, discussion with trusted loved ones, and encountering Christ in the Eucharist, we have the ability to raise each other up and encourage one another to live with a spirit of discernment, development, and discipleship. Be on the lookout for other women in your communities who can be invited into this intentional focus, as Christ does not expect us to travel this life alone; rather, He hopes we will connect, unite, and inspire other women, just as much as they have the ability to connect, unite, and inspire each one of us. 
MCCW-Worldwide is here to assist each of our chapel groups and regional teams with calling on the 3D focus, as we continue into this new decade of ministry.