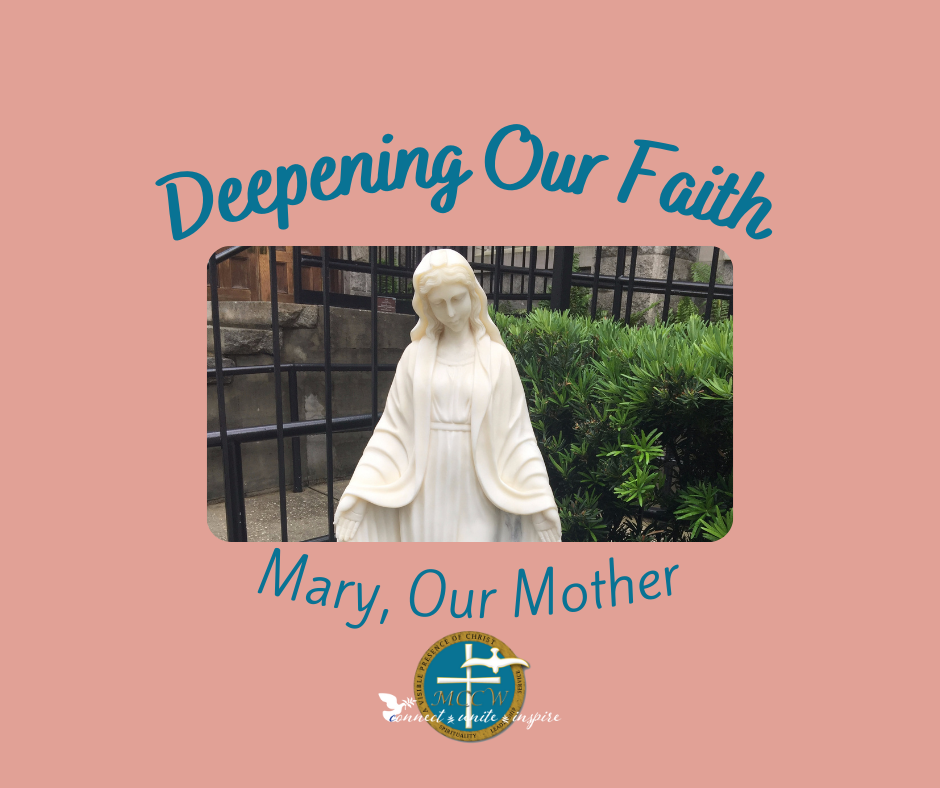 Deepening Our Faith: Mary, Our Mother
Sitting down to write this, our family is getting ready for homecoming after an eight-month deployment. My girls, ages 3.5 and 2, are blissfully unaware of the preparations that are happening between play dates and bedtimes while I run around anxiously awaiting the return of my husband. My planner is full of errands, meetings, to-do lists, and something that kind of resembles a social life. Those of you who have previously experienced a deployment are probably recognizing the pattern of, "Stay as busy as possible to keep distracted from the emotional rollercoaster." Those of you who have not experienced a deployment might be thinking I'm crazy, but I promise it's not as bad as it sounds! 
My civilian friends constantly tell me, "I could never do what you do," or, "I don't know how you do it." These phrases usually find themselves woven into conversations about me navigating a long-distance marriage, solo-parenting, and not (completely) losing my mind while seeming to do it all. Responding to these types of compliments is oftentimes awkward for me because I don't know how I do it either – except for by the grace of God and help from my heavenly friends. 
As I deal with the sacrifices and uncertainties that come with military life, I think of the saints who show us the way to handle these hardships. There are countless men and women who came before us that offer an example of how we can glorify the Lord in our individual vocations. My personal favorite? Mama Mary. 
Since we are about to spend a month honoring her role as the Mother of God and our Heavenly Mother, I invite all of you to join me in a brief reflection on her motherhood and learn how she can be a source of guidance and strength for those of us experiencing military life. Not all of us have been called to marriage and motherhood as she was, but there are important lessons for all of us in her story. 
Let Us Begin with the Annunciation. 
Mary responds to the sudden change in her life with complete trust in God's plan. She says, "I am the handmaid of the Lord…" and her "yes" changes the entire course of mankind. 
Have you ever experienced an unexpected and/or sudden change in your life? I'm going to guess you have! Moves, deployments, changes in orders… There's a reason the saying, "Welcome to the military, everything's set in jell-o," exists. 
The changes the military throws at us are commonly ones that affect every aspect of our lives. Our Blessed Mother can certainly relate to that sentiment. 
One of my biggest takeaways from Mary's acceptance of God's plan, however, is how trusting and willing she was to participate. 
I admit, my initial reaction to any life change is always anxiety (Will we find good housing? How am I going to manage keeping the kids alive without my spouse? Am I going to make new friends?). 
I often forget that God can use me to bring Christ's love to the world wherever I go, as long as I am willing to cooperate with His plan to do so. I also am challenged to remember I can trust Him to provide the resources I need to take care of myself and my family. 
Mary's example is both a huge source of inspiration and of comfort to me in those times of chaos and change. 
Let Us Take a Journey Together.
The next milestone of Mary's motherhood journey is a… journey. One to visit her cousin Elizabeth, that is. 
The Visitation is one of my favorite stories about Mary for a plethora of reasons. Mary responding to the Holy Spirit's call of charity, the unborn John the Baptist recognizing Christ Jesus in the womb, the joy of two women celebrating miraculous pregnancies… it all makes my heart sing! 
But there is one small(ish) detail of this story that absolutely blows my mind: Mary was in her first trimester of pregnancy when she made the trip to Elizabeth. What was I doing during the first trimesters of my pregnancies? Laying on the couch, binging on The Office, and desperately trying to not throw up.
Honestly? I wasn't feeling so saintly in those moments. My experience, however, gives me a whole new appreciation for the Blessed Mother's charitable attitude. 
Each one of us- regardless of our reproductive status- have the opportunity to follow in Mary's footsteps and bring Christ's presence to the world. 
We don't have to go as far as walking roughly 100 miles to our cousins while pregnant to bring Christ to others. Instead, we, as Christians, are called to share Jesus' love with those around us on a daily basis. 
As women, we have the unique privilege of using physical and spiritual motherhood to carry Christ to those in our homes and communities. 
Some examples of carrying Christ to people in the military community are: invite the new neighbors over for dinner, mail a card to a friend from a previous duty station, strike up a conversation with the person next to you in line at the commissary, pray for deployed service members. Even when we are facing our own struggles, we can turn to Mama Mary to show us how to bring Christ to the people in our lives. 
But what about the times that I'm REALLY struggling, Caitlyn?
Ah, yes. I have been in those situations, too. I hear you and I'm praying for you. 
The military community has no shortage of sorrows. There are long separations, losses of friendships, loneliness, illnesses, injuries, and death. Sometimes several of those things happen all at once. Sometimes it can feel beyond overwhelming. Can the Blessed Mother help us in those moments, too? Absolutely. Our Lord made sure of it. 
During His crucifixion, He gave His mother to His whole family ("Behold your mother" John 19:26), meaning all of us are entrusted to her maternal care. 
There is one simple prayer I learned from a friend years ago that I keep in my back pocket for when the weight of my own vocations lay heavy on my shoulders: "Mother Mary, be a mother to me now." 
Our Blessed Mother watched her Son suffer and die in the most gruesome way possible and she stayed by His side for it all. She does the same for each and every one of us. There is no hardship- earthly or spiritual- that we can face from which she would possibly shy away. 
Mama Mary is one incredible battle buddy! And she wants nothing more than to lead us closer to her Son through her protection and intercession. 
I encourage all women to pray the Rosary this month with the intention of reflecting on the role Mother Mary plays in your own life and allow her to guide you through the specific challenges you may be facing. 
Take some time to ask yourself:
How can I ask the Blessed Mother to be a mother to me? 

Will I let her lead me closer to her Son? 

How can I bring Christ's presence to my coworkers, friends, and family members today?
I pray, dear sisters in Christ, that you feel a sense of peace, security, and warmth as Mary wraps you in her motherly embrace, today and always.
In Christ,
Caitlyn Anderson
Navy Spouse, Writer, Illustrator