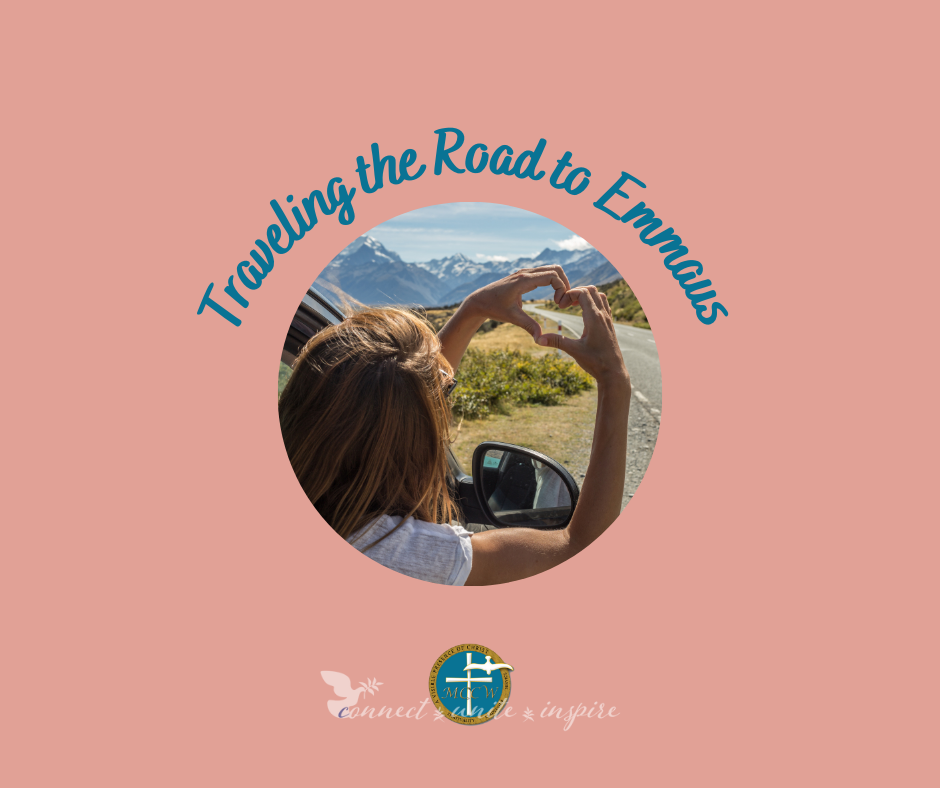 Traveling the Road to Emmaus
Let us begin with the Gospel of Mark 16:9-15.
Gospel 
When he had risen, early on the first day of the week, he appeared first to Mary Magdalene, out of whom he had driven seven demons. She went and told his companions who were mourning and weeping. When they heard that he was alive and had been seen by her, they did not believe.

After this he appeared in another form to two of them walking along on their way to the country. They returned and told the others; but they did not believe them either.

[But] later, as the eleven were at table, he appeared to them and rebuked them for their unbelief and hardness of heart because they had not believed those who saw him after he had been raised. He said to them, "Go into the whole world and proclaim the gospel to every creature."

Mark 16:9-15
Reflection
This past weekend, we heard another version of this from the Gospel of Luke. In Luke 24:3-35 we are brought back to Easter morning. Two disciples were traveling on the road to Emmaus, leaving Jerusalem. They were sad and disappointed after what happened to Jesus. They also did not understand the stories from the women who said that they had seen Him early that morning. 
As these disciples continued their walk, Jesus came and walked beside them, although they didn't recognize Him. They told Him of their sorrow and disappointment. One of the disciples was a bit frustrated with this stranger and asked him, "Are you the only visitor to Jerusalem who does not know of the things that have taken place there in these days?"  
Leave it to Jesus to ask what sort of things occurred. The disciples told Him of the sentencing to death and the crucifying of the Lord. From the chapter of Luke, "But we were hoping that he would be the one to redeem Israel" (Lk 24:21).  
The disciples continued with having only heard the women's account; they still did not know what to think of the disappearance of Jesus' body.
Jesus continued to listen to these disciples with patience. Instead of Jesus simply nodding in agreement with the pain He encountered in the disciples' countenance, He took a step back and explained why it was necessary that the Messiah should undergo the suffering of the Passion and the Crucifixion.  
What Jesus did on the road to Emmaus was highlight the disciples' relationship (and subsequently our own relationship) to His incarnation, passion, death and resurrection.
Jesus opened their minds and hearts to see His life and death in the fulfillment of the Old Testament scriptures. 
It was only later at the meal they recognized Him in their midst.
This brings to mind that at Emmaus, we also witness the evolution of the awareness of the two disciples. They were saddened by Jesus' death, and they did not yet have faith in His resurrection. 
Jesus continued to listen to them and let them grieve and mourn.  He sympathized with them. He accompanied them.
However, during this listening, Jesus also helped the two go from hopelessness to celebration. 
Like the disciples in this passage, we too have been there. 
During our own times of grief to sorrow we have come to Jesus.  
He listens with His heart and then leads us on our journey in healing. He journeys with us from hopelessness to celebration.  
In those times, did we (or do we) recognize Him? Did (or do) we recognize Him in the beginning of our sorrow, or in times we were (are) so beaten by the daily chores of life?  Or, like the disciples, did we (or do we) just need a few moments to center ourselves in prayer?
Discern
Each of us are on our own discernment of Christ. 
We have grown during our Lenten journey, but now we continue on our own journey to Emmaus. I suppose we will all make this journey many times in our lives.  
What will our discernment look like or be? 
Each of us has the ability to decide between truth and error, right and wrong. 
We use the gift of discernment for this process. The simplest definition of discernment and our responsibilities as Christians can be found in 1 Thessalonians 5:21-22, 
Test everything; retain what is good. Refrain from every kind of evil. 
Each and every day of our lives is in discernment.
So where do we each look for that true knowledge? 
In the bible, God's Word provides us with the ability to look at life issues.  Through the many pages the knowledge is there. We only have to open to reading the Scriptures, sharing and discussing them with others. The Gospel of Peter notes it is through the true knowledge of Him… of Christ… where we find the answers.
Act
So, you and I will walk our road to Emmaus together. 
However, we are also walking with the true knowledge of Him.  
We are walking as believers that Christ's suffering was for us.  
We are journeying as believers, knowing in the depths of our hearts that He truly has risen for all.
In this journey, don't be afraid to invite others to the table of the Lord and share the wonderful stories from the bible. Call to mind the words in the Gospel quoted at the beginning of this piece – go into the world and proclaim the Gospel. 
As a military community, frequented by many moves throughout our profession and lives, we are uniquely situated to go out into the world. We have that opportunity to take to heart Christ's gentle rebuke, and His command to share His joy of the Resurrection.
We will close with this quote: 
And this is my prayer: that your love may increase ever more and more in knowledge and every kind of perception, to discern what is of value, so that you may be pure and blameless for the day of Christ… 

Philippians 1:9-10 
May each of you continue to be an accompaniment to others on the road to Emmaus.
In Christ,
Bernadette
Director-at-Large for Evangelization