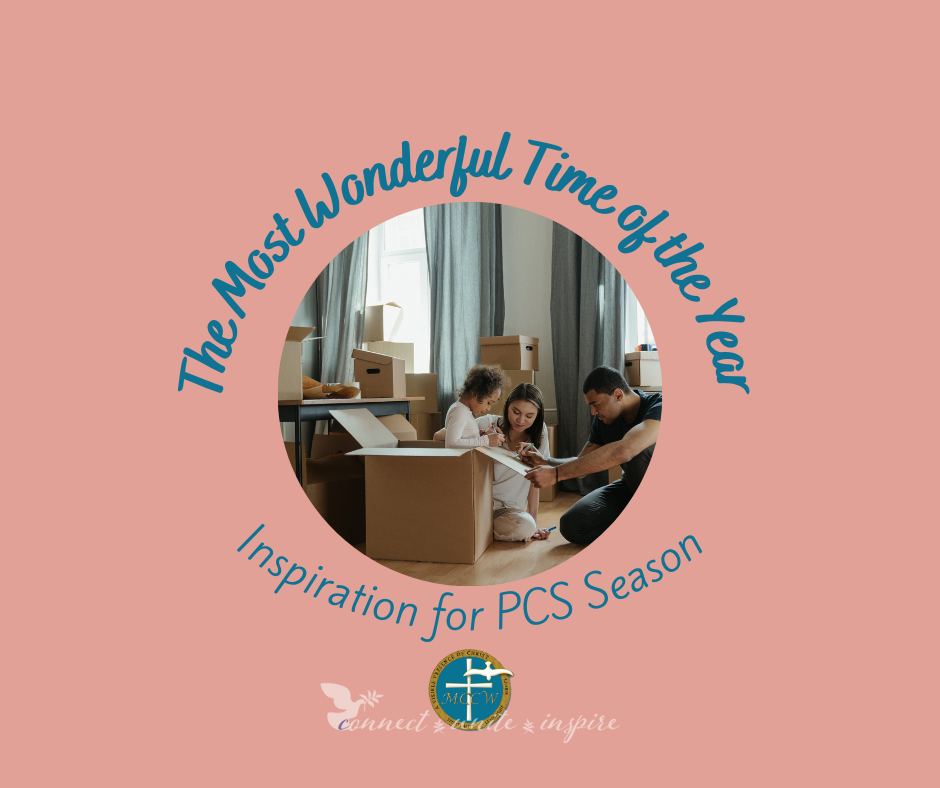 The Most Wonderful Time of the Year: Inspiration for PCS Season
All but two of our Army moves happened in the summer and life gets very hectic, stressful, and, yes, even exciting during this phase of Milfam life, no matter when it occurs. I like to call it "the most wonderful time of the year!" 
I moved 21 times with my husband before he retired. 21 times. I can't believe it some days. But here we are, at the other end of that career, and I can say heartily and sincerely, that I am grateful to have lived all the places we've lived, to have known all the people we have known, to have had all the experiences we've had. It wasn't always easy but, in the end, it was good. 
God was with us. Every step of the way.
My standard line to our civilian family and Army friends was, "The Army likes to think it's in charge, but I know God is in charge of where we're going." The other thing I was fond of saying, and still am, is "God's got a plan." 
Yes, that's a bit of Jeremiah 29:11, but I believe both of my favorite sayings with all my heart.
From our second PCS onward, I would always pray that God would send us where He wanted us to go. I figured out really quickly that we had NO idea what was best for us. Nor did we know what would be best for our family, or maybe for people we'd meet and who would be part of our lives along the way. 
God sees it all and knows everything. He has got a Plan. I just have to pray and trust. 
I remember the third time we were sent to Germany, my husband had to go ahead by a couple of months and, when I finally joined him with our two kids, one dog, and all of our household goods and our car (eventually, but I took care of all the arrangements with my handy dandy Power of Attorney), I was so exhausted and so frazzled, that I really could not have cared at all if our household goods had ended up in the bottom of the ocean. 
I had an epiphany that move: It's just stuff! All of it was and is replaceable. 
Okay, maybe some of it is not replaceable, but my life could go on without any of it. 
My kids and my husband were healthy and whole. We had our faith in God, and I knew by all the many blessings and consolations amidst all the chaos and frenzy, that He was in control. My prayers and the prayers of family members who knew I was taking care of the move alone carried us through. 
And so my unsolicited but heartfelt advice is, remember to pray that God sends you where He wants you to go. Remember that He loves you and your family more than you can imagine. 
Remember the most important things: faith, hope, and love. 
Give it all up to God. Offer up all that you are and have (by God's will) for His glory. And ask for the grace He longs to give you so that peace and acceptance fill your heart and soul. 
I know you have concerns. Place them in God's hands and move out! 
All shall be well.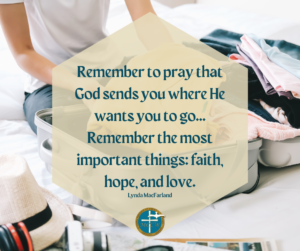 In Christ,
Lynda
MCCW-Worldwide Member
Read more about Lynda MacFarland at her website:
Drowning In Lemonade