A Blessed Feast Day
Our beloved diocese, AMS, now has two new auxiliary bishops. Bishops William (Bill) J. Muhm and Joseph L. Coffey were ordained on March 25—the Solemnity of the Annunciation of the Lord—at the Basilica of the National Shrine of the Immaculate Conception. His Excellency, the Most Reverend Timothy P. Broglio, served as principal celebrant and ordaining Prelate before a congregation of more than two-thousand.  Many MCCW members and clergy, from the surrounding installations, attended this beautiful ordination.
Tradition and the ancient prayer of ordination were included in this beautiful Ordination Mass.  The head of each new bishop was anointed with chrism, he received the Book of the Gospels, his bishop's ring, miter, and pastoral staff (crosier).   "Lean on the crosier you are about to receive," Archbishop Broglio said in his homily, "but also use it to snare the lost sheep… Allow the miter to remind you of the third dimension of your new ministry: to sanctify. Help our secular world rediscover a sense of the sacred."
After the nearly 2 ½ hour Ordination Mass, I had the privilege of enjoying conversation and a quick photo with some of our Promised Priests.    This Lent, please continue to pray daily for our AMS Co-Sponsored Seminarians. If your CWOC would like to adopt a seminarian—to pray for him, send care packages, and/or spiritual bouquets, please contact Denise Hummel at amsliaison@nullmccw.org.    
Welcome to our new AMS Bishops!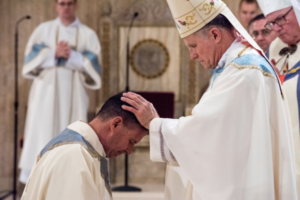 http://mccw.org/wp-content/uploads/2019/04/Screen-Shot-2019-04-03-at-9.29.11-PM.png
930
1244
mccwadmin
http://mccw.org/wp-content/uploads/2017/05/cropped-MCCW-Icon-Logo-180x180.png
mccwadmin
2019-04-03 19:38:58
2019-04-03 19:38:58
A Blessed Feast Day