By Aly Tugaoen
As we continue to gather momentum for the Worldwide Forum 2020, I wanted to share with you information about the two Catholic churches we will be utilizing during our time together and to share with all of you a few other places of Catholic interest. 
The first church is St. Joseph's Catholic Parish located at 623 East Commerce Street. It is a multi-cultural parish with a distinctly German flair. One example is their Stations of the Cross. Each station's description is written in both English and German. This beautiful church is a quick 3-minute walk from our Forum hotel.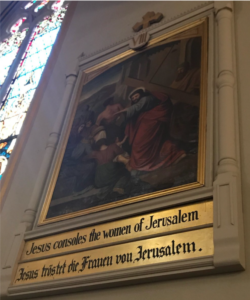 The next site is St. Mary's Catholic Church located at 202 North St. Mary's Street. It is the second oldest church in San Antonio after San Fernando Cathedral and is dedicated to the Immaculate Conception. It has been a beacon for the downtown community for almost 100 years. Its ornate décor is truly a visual inspiration. This stunning church is a short 12-minute walk from our Forum hotel.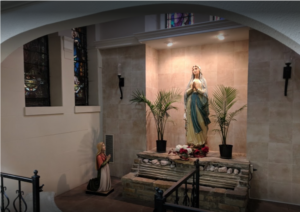 There are a few other Catholic places of interest In the local San Antonio area you may want to visit. While we will not be officially visiting them during Forum, they are amazing places to add to your bucket list.
Address: 115 Main Plaza, San Antonio, TX 78205
The San Fernando Cathedral is the mother church of the Diocese of San Antonio and has three patron saints: The Virgin of Candelaria, the Virgin of Guadalupe and San Fernando.
The Oblate Grotto and Shrine to Our Lady of Guadalupe
Address: 5712 Blanco Rd, San Antonio, TX 78216
This grotto is considered to have the most accurate replica of the original shrine in Lourdes. There is also a replica of Tepeyac Hill in Mexico where Our Lady appeared to Saint Juan Diego as Our Lady of Guadalupe.
Basilica of the National Shrine of the Little Flower
Address: 1715 N Zarzamora, San Antonio, TX 78201
The Basilica was built during the Great Depression, following the 1925 canonization of St. Thérèse and was designated a Minor Basilica of the Catholic Church in 1998.
http://mccw.org/wp-content/uploads/2019/07/stmary1.png
693
1216
mccwadmin
http://mccw.org/wp-content/uploads/2017/05/cropped-MCCW-Icon-Logo-180x180.png
mccwadmin
2019-07-10 13:23:18
2019-07-10 13:23:18
Forum 2020: Looking Forward