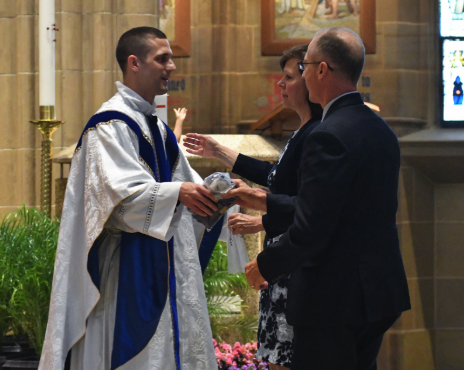 A Promised Priest's Mother Shares: An Interview with Susan Yakkel Part Two
By: Denise Hummel, MCCW Director at Large:-Seminarian Support
Last month, I introduced our MCCW readers to Mrs. Susan Yakkel and shared her expertise as a promised priest's mother.  This month, my interview with Susan continues ……
My husband, Ron,  served almost 29 years in the U.S. Air Force.  Together we have three children, Amber, Chris and Stevie.  Amber, the oldest, is married and has three children. Fr. Chris is the middle child.  Stevie is our youngest. We reside in Xenia, Ohio, near Dayton and Wright-Patterson AFB, where Ron taught at a defense institute for several years as a civilian after military retirement.
I can't really pinpoint an exact year when Chris felt called to the priesthood.  He's always been a very prayerful child, but it wasn't until his college years that he began meeting with a priest and started the discernment process.  It was at that time, Chris shared with us his calling to be a priest but he was still unsure. After his first year of college, he went to World Youth Day in Sydney, Australia, which also had an impact on him.  He graduated from Miami University in Oxford, Ohio, and joined NET Ministries for two years. NET Ministries is an organization that challenges young Catholics to love Christ and embrace the life of the Church. During this time, Chris continued to discern his call to the priesthood.   Through his prayers and his prayer intercession to St. John Capistrano, patron saint of military chaplains, Chris noted a few signs that directed him to his vocation as a military chaplain.  
None of us were aware that to be a military chaplain, you must first be a priest within a religious order or a diocese; a vocation within a vocation.  Chris actually contacted the Vocations Director for the AMS at that time, Fr. Kerry Abbott. Fr. Abbott directed Chris in the process and from there, Chris began the process of entering the seminary, the Pontifical College Josephinum.  Archbishop Timothy Broglio and Fr. Kerry Abbott were very instrumental in helping Chris.
Since Chris grew up as a "military brat" moving from one base to another, he was familiar with base chapels and priests who were military chaplains.  He always felt called to serve the military as a chaplain.
For the next three years, Chris will be in his home Diocese of Columbus.  He will be serving as a Parochial Vicar at the Perry County Consortium, four parishes in Ohio:  St. Rose of Lima in New Lexington; Church of the Atonement in Crooksville; St. Patrick in Junction City; and St. Bernard in Corning.  After his three years, he will serve active duty in the Air Force and is open to any assignment. For the next three years, he will be serving in the Air Force Reserves as well.  He is awaiting orders to Ramstein Air Base for his summer Air Force Reserve assignment.
May God continue to bless those who serve a vocation within a vocation; serving both God and Country.  
http://mccw.org/wp-content/uploads/2019/08/yakkel2.png
370
464
mccwadmin
http://mccw.org/wp-content/uploads/2017/05/cropped-MCCW-Icon-Logo-180x180.png
mccwadmin
2019-08-13 07:43:00
2019-08-13 07:43:00
A Promised Priest's Mother Shares part 2