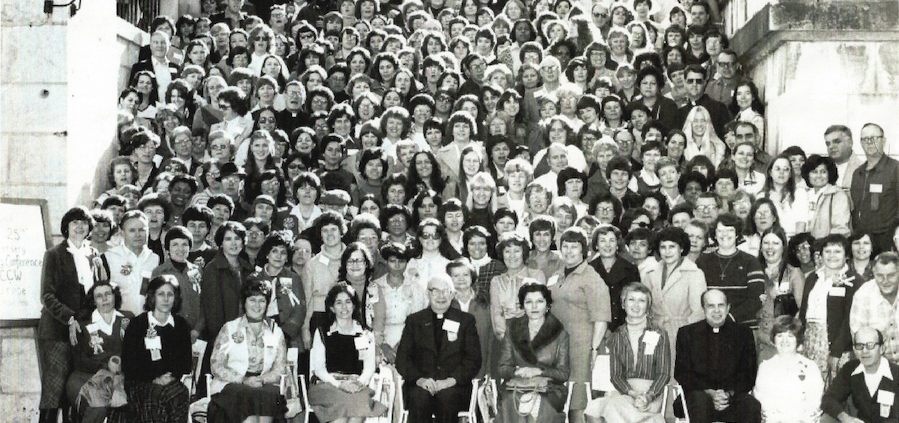 By: Aly Tugaoen, Director of Forum
The term Forum as we know it, like everything in military life, has gone through a few name changes; but in essence, its mission remains the same. 
As the 2020 Director of Forum, it is not lost on me that the first Forum I attended was in San Antonio, Texas in 2008.  At that point, Forum was called the MCCW-USA Conference. It was a gathering of women as I would soon learn, who I would have the opportunity to see biennially over the next 12 years. What a fantastic way to catch up with friends who came into my life as a military spouse and left just a quickly, due to the "needs of the Army."  The 2008 MCCW-USA Conference in San Antonio brought in the newly appointed Archbishop Timothy Broglio as its keynote speaker.  Eleanor Gentilini, past MCCW Worldwide Historian notes that, "It was wonderful to meet him and have him participate in the conference. He had a wide breadth of experience in many countries around the world, but the military was something new to him at the time."  
When MCCW began in the continental U.S. in 1970, it was named MCCW – Southeast – USA, and was sometimes abbreviated as M.C.C.W.S.E.U.S.A.  After a few years, women from other parts of the country became involved in the organization, and in 1976, the name was officially changed to MCCW-USA.  Atlanta, Georgia was the site of its annual assembly until that firm name change in 1976.  Following the merger of MCCW-Europe and MCCW-USA into one organization, and a long 30-year break, the first MCCW-Worldwide Conference returned to Atlanta in 2006. 
Pictured is one of the older traditions that MCCW began many years ago that has been recently re-discovered as we delved into the storied past of our organization.  MCCW had a guest book for Forum gatherings, as far back as 1975 featuring signatures and addresses of attendees at the annual conferences through 1980 and then every two years through the year 2000 with the event's corresponding location and dates.  According to Eleanor, there are a large number of blank pages left in the book for us to use (potentially) for the next 25 years. We will have this book during the 2020 Forum in San Antonio for all of us to not only sign but to look back and reminisce about conferences past and the loved ones no longer with us, including our military clergy.  
MCCW Conferences have been held all over the U.S. including Baltimore, Maryland (the first Catholic Diocese) with conferences in 1978 and 2010 and the Washington, D.C. area, the site of multiple conferences in 1982, 1994, 1996, 2000, and 2016. 
El Paso, Texas, was the site of the conference in 1980 and was scheduled to host again in 1990.  Due to the first Gulf War, however, it was postponed until May 1991. 
Other conference locations have been Kansas City, Kansas; Denver, Colorado; Tacoma, Washington; Boise, Idaho; Dallas, Texas; Tucson, Arizona; St. Louis, Missouri; Chattanooga, Tennessee; and San Diego, California. 
With the geographic challenges presented to our ladies stationed in Europe and Asia, MCCW made some adjustments to accommodate the fact that it is exponentially harder for these ladies to get to Forum each time it occurs.  Historically speaking, MCCW-Europe held a conference at the Armed Forces Recreation Center in Berchtesgaden, Germany, near Salzburg, Austria, for many years.  It occupied all of the AFRC hotels there with over 500 women and sometimes 75 Priests. Around 1990, it moved to the Frankfurt area, then near Bad Kissingen, and later to Ettal, near Garmisch.  Most recently, the European Region met in Rome, Italy for a retreat and looks to expand to other parts of Europe such as Ireland and England. If our ladies can't make it to Forum, then they have other options to fill their spiritual cup. With the newly created Asian Region, encompassing Japan, Korea and Guam, the same geographic obstacles present themselves. With a more than 24-hour airplane ride to a Forum location in the continental U.S, it is important for us to provide a way for these ladies to still grow in their faith so far from the flagpole.  
As we look to Forum 2020, preparations continue with gleeful anticipation.  I look forward to seeing all of you in San Antonio!
Many thanks to Eleanor Gentilini for the historical information regarding Forum.
http://mccw.org/wp-content/uploads/2020/03/forum-group-photo.png
577
899
mccwadmin
http://mccw.org/wp-content/uploads/2017/05/cropped-MCCW-Icon-Logo-180x180.png
mccwadmin
2020-03-09 06:40:41
2020-03-08 14:49:27
Forums Past and Present