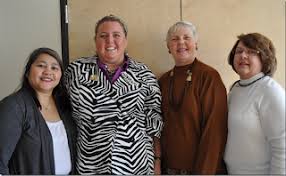 By: Nancy Belmont, Director of Faith Formation
Journey of Faith (JOF), MCCW's leadership training program, was instituted in 2002 by then-MCCW-USA president Carol Fountain. I interviewed former JOF presenters, MCCW-Worldwide Director at Large, Eleanor Gentilini, and MCCW-Worldwide Past President, Lisa Miklos, about the program, its format, and how it enhanced leadership among Catholic military-affiliated women.
Purpose of Journey of Faith
"Journey of Faith was created as a travel training program for chapel communities," Lisa told me. "It was a way to reach directly into CWOCs and help them feel connected to the big picture. Not everyone can attend conferences/forums, so we would go out two-by-two and bring MCCW to them."
Eleanor added, "(it was a way) to train new leadership, refresh seasoned leadership, and encourage women to become active in their Catholic community."
Assembling a Team
Eleanor reflected on how Carol Fountain assembled the initial JOF team: 
A request was sent out before the October 2002 MCCW Conference in Dallas, Texas for anyone interested to apply to be a trainer. There were only six of us and [we] took part in several lengthy training sessions during the conference. The original trainers were Sheila Baker, Mary Clark, Alba Thompson, Gerry Hince, Maria Moreno, and me. Beginning in 2003, chapels would request MCCW: Journey of Faith, and Carol would assign two of us to travel to the installation and do the presentation. More trainers were added in 2004 and 2006.
Original Leadership Modules
The original four leadership modules were:
Navigating the Journey: Nuts & Bolts of MCCW –

This module dealt with establishing and maintaining the organization. Lisa says the purpose of this module "was to detail the history of MCCW and a timeline of how we got from the beginning to today. We introduced the structure of MCCW along with all governing documentation (by-laws, handbooks and the like). We walked the women through the mission statement and always prayed the prayer to Our Lady of Good Counsel."

Celebrating the Journey: Program and Service Ideas –

This module delved into the substance of our mission.

Food for the Journey: Focus on Eucharist and the Word – Liturgy, Devotions, and

Scripture Studies: Lisa explained the details of this module: "We would introduce how to begin an MCCW as well as programming. We would go over what a monthly/weekly program could look like (always incorporating Mass and prayer, the rosary and/or mothers prayers). We would talk about [MCCW Signature Programs] Cider and Bread services as well, often gifting a copy of each service. We would discuss how to choose a faith or Bible study, always encouraging that final approval should always go through the priest. The activity from this had women brainstorming possible programs and often resulted in the CWOC having a full year of programming themes at their fingertips."

Sharing the Journey: Inviting All Women to MCCW–

The purpose of this module was to cast a wide net as well as extend a personal invitation.
Adding Electives to Expand and Enrich
In 2006, the team added three electives:
All Aboard: How to Host a Board Retreat –

Lisa said this enabled the chapel board "to come together, connect, and plan their upcoming year."

And They'll Know We Are Christians: Group Dynamics and Conflict Resolution –

This module encouraged women to deal with conflict amongst themselves and always consult their priest moderator for help and guidance.

Our Spiritual Journey: A Mini-Retreat –

This prayer service could either begin or end the day's presentations. Lisa remarked that "it was a way to model a prayer service and used as a time of reflection."

Growing Leaders: Preparing, Planting, Pruning and Watering, Reaping
Implementing the Training
Lisa described the format of a Journey of Faith training, "Journey of Faith brought a five-module course to be presented in a one-day program. There were times we offered an introduction the evening before and jumped into the training the following morning. As time went on, we added additional modules to supplement as long as three of the basic modules were also presented."
JOF sessions were open to all members of the chapel group, not solely leadership. Eleanor explained, "Part of the purpose of JOF was to encourage women to come forward and serve."
Lisa remembered, "Modules were [offered] in a presentation format with two trainers taking part in each module to present. Most modules were followed by an activity that enhanced the module. These were all pre-scripted (with room for the presentation styles of each trainer) and all materials needed were provided by MCCW; although we would sometimes email chapel groups, send files for them to print off, and have them ready upon our arrival. We also brought a table set-up with samples of handbooks, by-laws, and faith/Bible study materials…and often did a drawing to give away the study materials."
The activity that accompanied course one was Eleanor's favorite. It emphasized sharing responsibilities in the chapel group. Eleanor noted, "Cards were passed out randomly to those in attendance. Each card had a task that needed to be done, [such as] hospitality, child care, liturgy, program, set-up, clean-up, publicity, etc. Each woman had to read the card she received and say whether or not she could or would do this task. Some would just agree, but others would not. For instance, if a woman without children got the child care card, she may ask for someone else to take it and she would prefer hospitality. Or, someone with computer skills may trade tasks with someone who got the publicity card. The result was helping everyone see that they were valuable members of the group and had talents that together would make the group run smoothly. Many times, it became clear that the president or chairman was doing all the tasks. I believe this is one of the most effective exercises used, and that we can benefit by using it today."
Lisa explained that her "favorite module depended on the chapel group, but I will say I especially LOVED introducing women to the mission statement and the history. SO many loved understanding their connection to the great history of MCCW. I also loved some of the newer modules as they brought the training to a new level."
Lisa said JOF modules were adaptable in a variety of settings, "We… actually used JOF as a format for some regional retreats and conferences when there was not great strength in the region. Paying for "big name" speakers was never a thing, especially in the regions as that is where great training happened."
Travel mishaps and fond memories
These trips were not without funny travel mishaps. Snow often spoiled travel plans out of Colorado in January (go figure!) and led to last-minute travel adjustments or pinch hitters. Eleanor detailed one particular trip, "Maria Moreno and I were scheduled to go to Alaska (yes, in January!) to present in both Anchorage and Fairbanks. My flight from Colorado Springs had to connect in Salt Lake City but could not land due to heavy fog. After circling for an hour, we returned to land in Grand Junction, a relatively small airport, where we stayed for several hours with a collection of other big planes. There were only two flights per day to Anchorage, so when I finally got to Salt Lake City, I had to wait about 8-10 hours for the next flight which arrived in Alaska in the middle of the night instead of the afternoon. I was greeted at the airport by an MCCW husband."
The next year, the snow stopped Loretta Lappen from co-leading the training with Eleanor at Ft. Meade, Maryland. Eleanor remembered how Lisa, a new trainer at the time, instantly stepped up to fill in for Loretta. "When I got to Atlanta for my connecting flight, I called Lisa, who was a member of the Ft. Meade chapel…to ask her to take Loretta's place with little advance warning. We prepared our presentation via telephone, and all went well."
What Lisa enjoyed about JOF was that everyone could learn from the modules. "A favorite story of mine was introducing revised modules to a long-standing CWOC community. They thought they were just being asked to be a source of evaluation of the modules, but they came away having learned so much. Some of our more seasoned members have great stories of staying with members and their families. All in all, this program brought great gems of community, continuity, and growth to each chapel we visited.
A Lasting Legacy
Eleanor believes Journey of Faith was important because "we spent a day (or more) in person with fellow Catholic women who wanted to learn new ways to serve or to recommit themselves to serving their chapel groups and parish communities. While videos and online classes serve a vital purpose in our busy society, being there is an important asset that cannot be duplicated."
Our current worldwide board agrees with Eleanor's belief that in-person encounters are crucial ways we can support and uplift women's ministry. This past December, we held a Day of Reflection at West Point to increase our presence in military chapel communities, bringing content directly to military-affiliated women. I am working with President Kim Miller to edit existing leadership modules so these treasured materials can be implemented in chapel groups again. Our vision is to repackage these modules with the help of MCCW-Worldwide's Graphic Designer, Jean Dery, and post them online with the support of MCCW-Worldwide's Director of Communications, Bevin Landrum. We welcome your input and support in this initiative. If you would like to examine these modules and assess how chapel groups can implement them moving forward, please contact me at faithformation@nullmccw.org.
http://mccw.org/wp-content/uploads/2020/03/JOF.jpeg
176
286
mccwadmin
http://mccw.org/wp-content/uploads/2017/05/cropped-MCCW-Icon-Logo-180x180.png
mccwadmin
2020-03-09 06:38:12
2020-03-10 16:49:08
Leadership Training and MCCW-WW: Then and Now