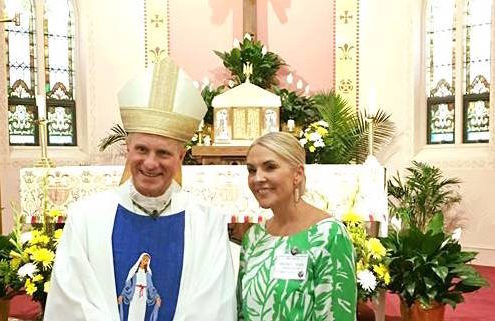 Welcome from our President
"I do not think of reward; I am working for God, And do so cheerfully." Mother Marianne Cope, 1902
Welcome Friends,
The Military Council of Catholic Women Worldwide is an organization of Catholic women who are women of all backgrounds and military branches and who are active duty, dependents and retirees around the globe.
We strive to live our mission statement of spirituality, discipleship and charity.
The women who are involved in this organization give hours of prayer and time and talent in order to enhance and serve the military Catholic communities by serving in their military chapel communities and collaborating with Catholic Women of the Chapel Groups supported by their installation priests and serve the women and families in those communities by bringing all closer to the Eucharist.
We support vocations by working closely with the Archdiocese of Military Services by giving to the Seminarians in the AMS program by financial contributions and much prayer.
It is with great JOY we welcome all you who wish to join us here at MCCW Worldwide by participating in our Regional Yearly Retreats and days of Reflection along with our MCCW WORLDWIDE FAITH FORUM that will take place in April 2018 where all will gather from around the globe to celebrate with our Catholic women of the chapels and military priests and our Archdiocese of Military Services Bishops.
It is with prayer and much hope that we are blessed, that your 'journey of faith' in seeking truth has led you to us, and that we will enhance your faith and inspire your willingness to use your 'gifts' alongside other military women who help in building the Kingdom of God.
With all my friendship
In His Service Always,
Michelle Nash
President, MCCW Worldwide
2016-2018