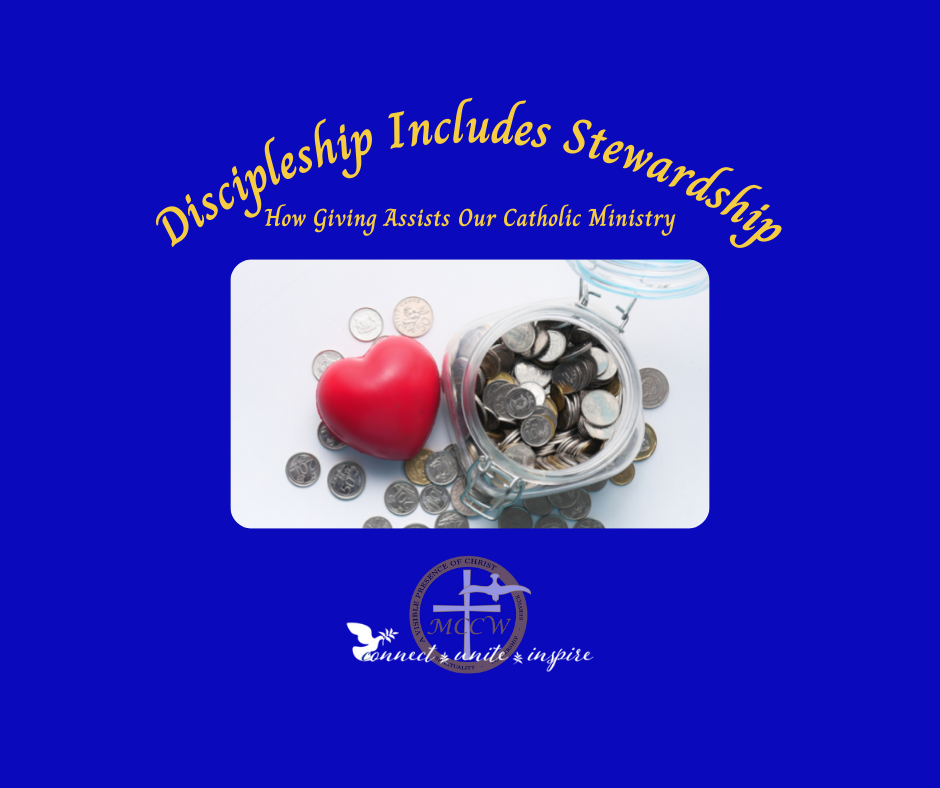 Discipleship Includes Stewardship: How Giving Assists Our Catholic Ministry
As Catholics, discipleship is a word we hear often and the main focus of that word is on Jesus Christ, being His follower, and sharing His good news with a goal of doing our best to do His will. 
Stewardship in our Catholic faith and theological belief is being grateful for what God has given us and using the resources to bring glory to Him, generously sharing what we have been given. 
Recently, I have noticed the two words of discipleship and stewardship go hand in hand, especially in Catholicism.
The biblical doctrine of stewardship defines a man's relationship to God. Everything we have is a gift. God provides so we may be generous and give to others. The apostle Paul explains it best by saying, 
For we are God's co-workers; you are God's field, God's building. 

1 Corinthians 3:9
Stewardship is essential for the Military Council of Catholic Women-Worldwide  (MCCW). 
As a non-profit subsidiary of the Archdiocese for the Military Services, USA (AMS), MCCW supports women of faith, seminarians, and creates lasting bonds of friendship. Together we allow God to grow in our hearts and direct the shared growth of our organization. 
MCCW provides a unique network for Catholic military women. We provide leadership development and faith formation through speakers, retreats, and online resources. MCCW accomplishes its work through the efforts of an all-volunteer leadership team. 
We need your support. 
#GivingTuesday is coming up and we are asking you to pray and consider giving a gift that will impact many military-affiliated catholic women and seminarians worldwide. 
Our call in life is to always give, no matter where we are; a good disciple not only shares and does acts of mercy, but also gives with love and from the heart. 
#iGiveCatholic inspires the Catholic community to come together on a global day dedicated to giving back, as faithful stewards and to "Give Catholic" on #GivingTuesday.
In Christ,
Josie
Director of Stewardship