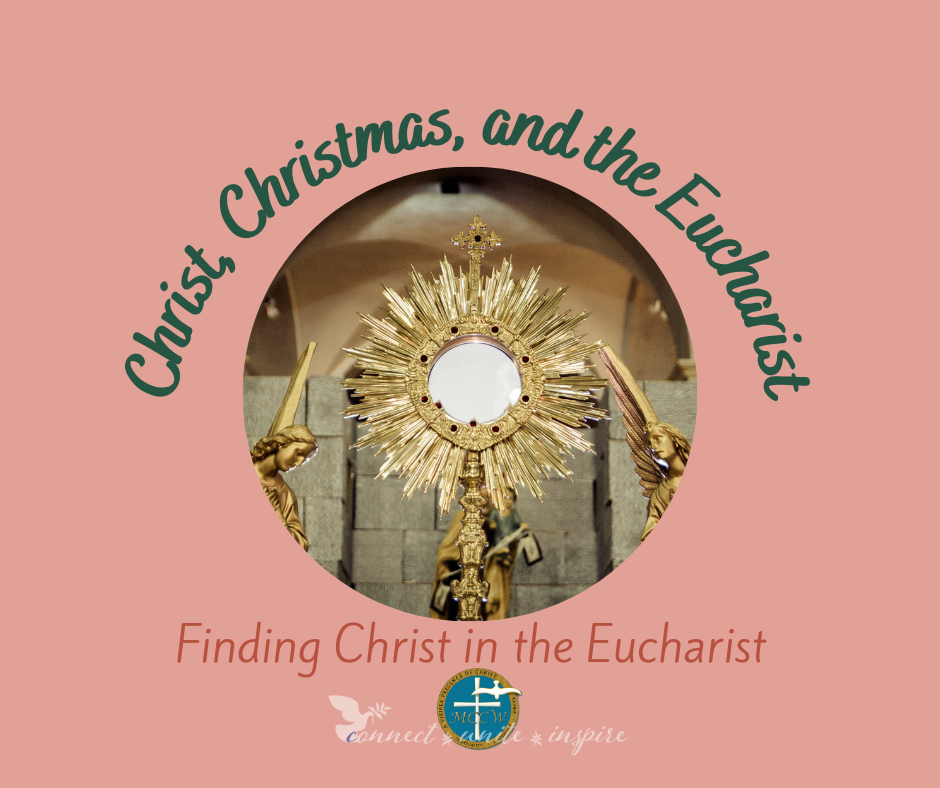 Christ, Christmas, and the Eucharist: Finding Christ in the Eucharist
I always know Christmas is coming when I enter the narthex of the church and see the Knights of Columbus selling their Christmas cards and bumper stickers that say, "Keep Christ in Christmas." When we simply look at the word "Christmas" it is pretty hard to miss the main root of "Christ."
There He is!
Literally, He is the reason for the season. 
And yet, as we are celebrating this season, do we begin to place the moment of our Savior's birth above the celebration of His sacrifice for us? 
Do we forget that the two are intertwined, one leading the way to the other? 
Every celebration of the Mass is the celebration of the coming of Christ, the life of Christ, and the death and resurrection of Christ. It is the totality of Him, fully God and fully man. This is what we are to welcome into our hearts and our homes. All parts of Christ, all aspects of His very Being.  
The birth of Christ was not the finality of the prophecy. Jesus didn't come forth from Mary and proclaim, 'It is finished." It was 33 years of study, parenting, suffering, discipline, joy, grief, loss and celebration. 
Advent and Christmas are only the beginning of our liturgical year. They are the signposts for what is to come: Lent and Easter.
It is here that we find the fulfillment of what is said and experienced by the shepherds in the Gospel of Luke: 
The angel said to them, "Do not be afraid; for behold, I proclaim to you good news of great joy that will be for all the people. For today in the city of David a savior has been born for you who is Messiah and Lord. 

Luke 2:10-11  
The Messiah the people were waiting for had a rod and a staff, He would fulfill prophecies and free His people. Seeing the Christ-child was a confusing sign but when we follow Him to the institution and experience of the Eucharist, we finally see the Messiah the angels proclaimed.
This Christmas, I invite and challenge you to discover more deeply what the birth of Christ means for your life by drawing more closely to the Eucharist.
Follow closely this path to which His birth calls you.
See how participating in His death and resurrection is a full union with His entrance into humanity.  
It wasn't at the last supper, the institution of the Eucharist, that Christ first entered into the body of man. It was at the Annunciation.
By accepting Jesus through her fiat, Mary participated in the first Eucharist, and it transformed the world. She physically and emotionally grew and changed, and from her own body was birthed salvation. 
While none of us may not literally give birth to God as man, by receiving the Precious Body and Precious Blood, we give our fiat and make our whole being a vessel for God to use to bring His good news to the world.  
Closing Prayer:
Let it be done to me according to Your Word. Let me accept Your will as I accept the Eucharist and go forth to change the world – in my heart, in my home, in my family, in my community. Amen.
In Christ,
Kitty