Welcome to the Western Regional Retreat. We are happy you have chosen to take this leap of faith in this new way to connect, unite and inspire. We have been apart for too long and are excited to connect with you in person, unite in our devotion to the Eucharist, and inspire you to bring that devotion back to your chapels.
Your Sister in Christ,
Erin Velasco
MCCW Western Regional Coordinator
Meals include a no-host social on Friday, three meals on Saturday, and breakfast on Sunday. The no-host social is a BYOB and snacks.
This ticket link is for Double Occupancy two-night registration ONLY. There are other links for other options, including Single Occupancy two-night registration, and Daytripper. If you want to make arrangements for an extra night on either end, you must contact the Director of Regional Coordinators to confirm, which will be arranged separately.
All ticket sales are complete when payment is received. Tickets are NOT refundable. However, we do understand unexpected situations occur and your ticket may be transferred to another MCCW-eligible woman. We highly encourage you to find a replacement and contact the Registrar. If you cannot find a replacement through your chapel, you can contact the Director of Regional Coordinators for assistance in finding someone outside of your chapel–email @ directorrc@mccw.org.
If you are registering a group, please provide each person's name and personal contact information. We need that to further direct communications about the retreat events.
This year we are excited to offer a few $100 registration scholarships provided by MCCW-Worldwide available on a first-come, first-served basis.  If you wish to request this need-based scholarship please email finance@mccw.org.  We will award scholarships based on the email timestamp of each request.  They are limited to spouses of E5 and below and O3 and below and you will be required to provide a letter of good standing from your priest. Recipients will be notified by email of their conditional approval within a week of requesting a scholarship and then have ten days to provide any required documentation.  If you do not provide a letter of good standing by the deadline, the scholarship will go to the next person on the list.  
Retreat Location Description
The Franciscan Renewal Center ("The Casa") is a place for spiritual growth, healing, and community that is open to everyone, regardless of faith.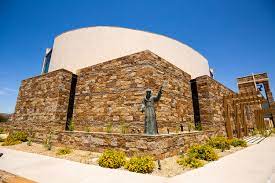 Logistics
Check-In Time: 10:00 AM
Check-Out Time: 11:00 AM
Cost
The cost for the Western Regional Retreat overnight guests is: $420/for two-night double occupancy rooms or $505/for two-night single occupancy rooms.
Day Tripper price is: $205
The cost of all retreat materials and supplies, plus lodging and limited meals are already built into the costs noted above.
Recommended Packing List
Please be sure to bring your toiletries, Bible, Rosary, any snacks that you'd like to have on hand, and a bottle of wine to share if you'd like!
Contact Info
For general support with retreat registration and tickets, please email directorrc@mccw.org.  For information on scholarships or invoicing, please email finance@mccw.org.

All registrations must be completed on Eventbrite.
All sales will close on March 1, 2023.
Space is limited. We highly encourage you to register as soon as possible. 
Have a question or need to talk? Please email Erin Velasco at westerncoordinator@mccw.org.