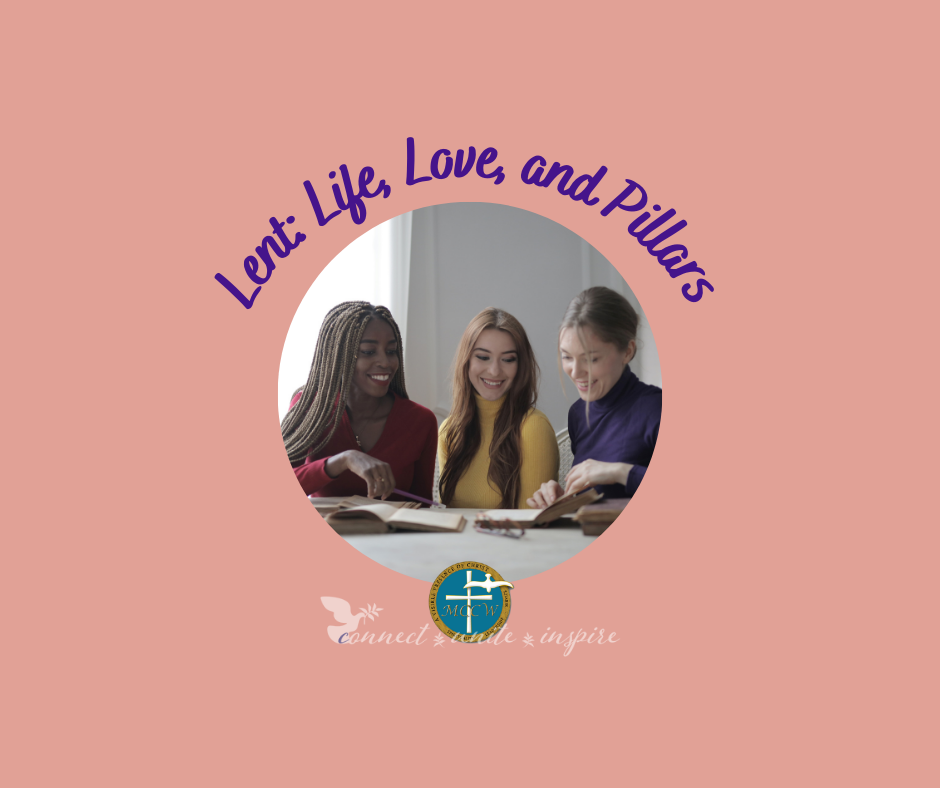 Lent: Life, Love, and Pillars
Lent. What an incredible time of the year in the Catholic Church! We recall the most unbelievable sacrifice of all: Life for us.  
We have many traditions during this time or celebrations. Is it fair to say Lent is about what true sacrifice is with His dying on the cross and call it a celebration? Yes and only yes if we are missionaries daily of His Word. You say you are not a theologian. 
Great because God only knows that you love him and will share His Son's work. This is your calling during Lent. 
We understand the three pillars of Lent: prayer, fasting and almsgiving.  
As little ones or even as we ventured out on our own we chose things to offer up during this period like chocolate, social media, and even gave up purchasing new things. These days, social media would be difficult with the many extraordinary Catholic pages. We have an opportunity to use the postings from MCCW Community page and even our Archdiocese of Military Services to guide us. Even apps that are Catholic in nature are increasing daily.
Let us look at the three pillars with the celebration of Lent in mind.
Remember, you are pleasing our Lord in serving His people.
The first pillar is Prayer.  
Prayer is as simple as it sounds; it really is simple! However, during Lent be more intentional with reading scriptures.
Read the Stations of the Cross if you are unable to attend in-person, or if you are traveling. I am the oldest of ten children. As a military child during what I know now as a PCS, Mom had all of us children in tow at Travis AFB traveling to Germany to meet up with our Dad. It was a Friday during Lent. She gathered us in part of the waiting area to not disturb others and read the Stations to us.  The older children held a younger one, listening to what we learned later are the Stations of the Cross. She read it like a story. Mom loved Jesus and celebrated this love as a missionary would to her children. In a place that was definitely not holy, but became so when she finished with all of us in prayer. 
Ask someone to join you (or your chapel) for Stations of the Cross or even Mass. Ask if you could pray with them. If someone is going through a difficult moment let them know you are keeping them in prayer. Set up a prayer sisters text group. I have one and with no judgment we can openly share our disappointments and concerns. We also know that which is shared stays within the group, which is very critical to a prayer group. 
 The second pillar is Fasting. 
For many women, fasting in a dietary way for a whole day is not possible, but what about fasting from stuff? Fasting from the extras in life. 
I can almost see you cringing now. Yes, along with you I love the gourmet coffee and teas. Instead, take what you would have paid for a week's worth or two and set aside for the Church. Maybe even cutting back on drive thru's and saving the money again for the Church. 
One year with my two, then-little grandchildren, I was trying to teach them this act of kindness. Amazingly, the older one after a week let me know that they did not get any McDonald Happy Meals and asked for the money to put in the collection that next Sunday. She and her little brother were so proud to put the money in the offering plate.  She even informed Father after Mass that she saved by not eating Happy Meals! 
One spiritual fasting option for each of us to explore is fasting from complaining. We know how easy it is when we have someone to hear our complaints and add to it. This spiritual fasting will take some time but every effort to change this will be a step forward. 
The third pillar is Almsgiving.  
Growing up I learned that giving to the Church is important. That lesson is still important today. Many churches share with their congregations the Operation Rice Bowl and other educational materials. Even the littlest ones can put coins in this paper rice bowl and at the end of Lent turn it in. 
Another option to consider as a type of almsgiving includes going to our local food closets or pantries. Many are low in canned goods and other certain items for little ones. Check with a local church's website and note what is needed. 
One local Catholic church near me has the Sharing Table every Saturday.  Individuals and families are welcome there for not only a meal but groceries for a little over a week. I have volunteered there and been amazed at the outpouring from the community. They offer food ranging from frozen poultry, to bread, to fresh vegetables and fruits. Each month one Saturday is set up with slightly-worn clothing.
Take the time during this Lent to be intentional in prayer, fasting and almsgiving. 
As missionaries of Christ we walk side by side in sharing in the journey of these forty days and nights in celebration. 
Celebration of the gift of love that he gives to each of us to serve His people brings us together, through the miles. 
Through Christ, we have the gift of love to connect, unite, and inspire during this season of Lent.
In Christ,
Bernadette
Director at Large for Evangelization